Since this text about Committee on Present Danger China had suddenly and inexplicably vanished from it's original Croatian news and opinion portal website wwww.seebiz.eu , and since once of the members of the aforementioned Committee is Ratko Knezevic, of whom I want to warn the general public about, I will post it here. All the editing is mine, while the text is wrriten by Branimir Vidmarovic, Croatian expert on International Relations, with special interest in Russian and Chinese diplomacies, political structures etc. English version of this text and other interesting details and updates will be avaiable soon both on this website and my Facebook. For now, the post is intended for Croatian, Serbian, Montenegrin and other ex-Yugoslav south slavic langugage speakers.      -  Franjo Tusek (Francis Tuschek)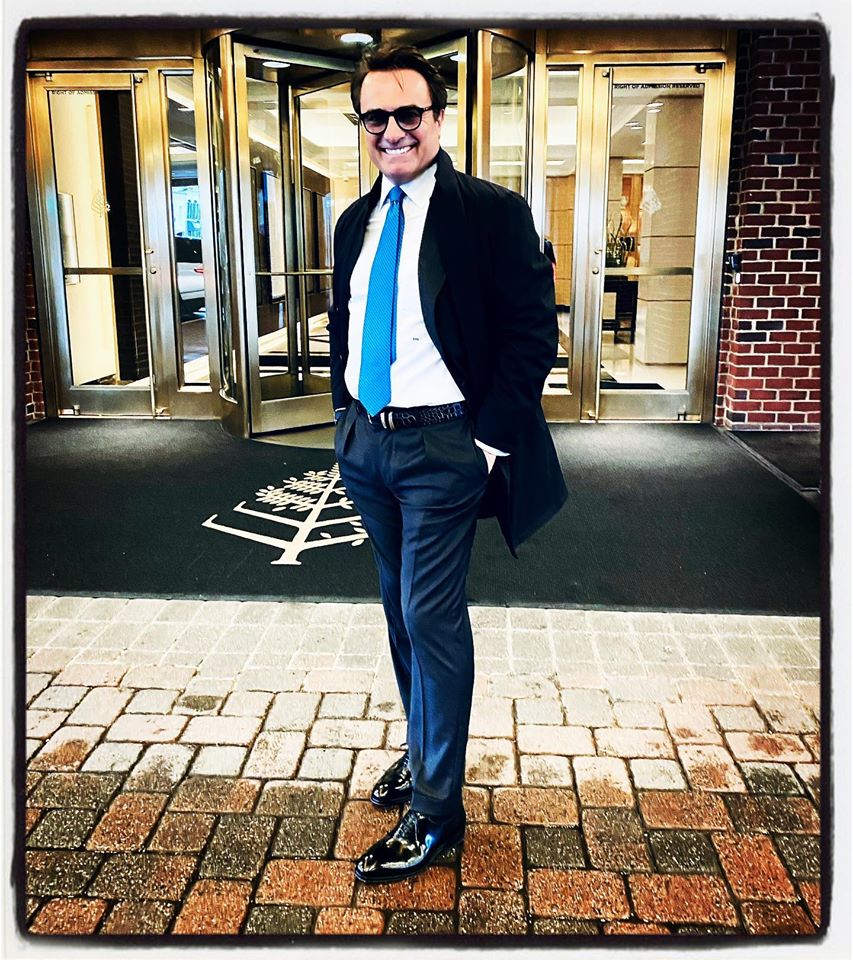 The gigantic ironiy of this Facebook photo self-description will be revealed soon, as we learn that at the age of 57, Mr. Knezevic still didn't "master [himself] in self-discipine", as is examplified by his increasingly erratic behaviour, frequent intoxication etc. The text as is belongs wholly to Branimir Vidmarovic, except the editing and the square brackets at the end of it, including hyperlinks that were added
Steve Bannon i istomišljenici u križarskom pohodu protiv kineske prijetnje
Borac za dobru, svjetlu, nacionalno rascjepkanu, bedemima ograđenu, ali pri tome visokomoralnu budućnost svijeta po mjeri svojih frustracija, Steve Bannon, u svom arsenalu metoda i organizacija sada ima jednu neobičnu skupinu.
Riječ je o Komitetu za tekuće prijetnje – skupini konzervativnih lobista koji svojim rentgenskim okom pažljivo snimaju sve tekuće, prošle i buduće opasnosti koje vrebaju na SAD. Prva družina političkih dušebrižnika bila je osnovana 1950. tijekom administracije Eisenhowera. Nepomirljiva i neovisna organizacija je međutim postojala tri kratke godine, sve dok Eisenhower čelnicima nije ponudio radna mjesta u svojoj administraciji. Kako i priliči hrabrim i neovisnim lobistima koji osnivaju hrabre i neovisne organizacije u ime visokih ciljeva, poziv na državni posao nije mogao biti odbijen.
Četvrta iteracija Komiteta koji je svoj fizički i utjecajni vrhunac doživio tijekom Ronalda Reagana bavi se kineskom prijetnjom. Komitet je sastavljen od raznovrsnih bivših vojnih i obavještajnih dužnosnika, ali i nekih ljudi iz ozbiljnog poslovnog svijeta. Zavukao se u tu specifičnu družinu ljudi koji skrbe o sudbini SAD-a pred užasnim milijardama Kineza 5G mrežom kolektivno spojenih na Partijski razum i Ratko Knežević[1][2] iz Aion Grupe — nigerijske energetske kompanije. [?!?]
Impozantni vojno-obavještajno-poslovni Komitet pod idejnim vodstvom velikog kombinatora Ostapa Bendera Bannona već je na prvom zasjedanju pokazao svoju razornu moć. Neprijatelj će sigurno pasti. Na pod, od smijeha.
Jer, skupština je bila pravi dragulj, jarka poput svjetlosti dvaju Valinorskih stabala koja su čuvala drevnu Ardu od Kineza, paukova i ostalih užasa mračnoga Istoka. Gospoda visoke životne dobi, nostalgijom snažno vezani za Ronalda Reagana, iz umova, rukava i skripti izvlačili su ideje i zaključke kakve nalazimo u domaćem Domazetlošinskom kanonu publicističkog i analitičkog izražaja.
Da poštovanom čitatelju pobliže dočaram razinu sinologije, kineske ekspertize skupa, citirat ću jednog od govornika, stanovitog Stephena Prya, bivšeg zaposlenika CIA-e čije prezime u duhu Čehova odgovara njegovom zanimanju, ali nas isto tako podsjeća da ga od komičara dijeli samo jedno slovo tog prezimena.
"Kina je totalitarna država koja je konstantno u ratu. Ideja mira je zapadni konstrukt" [?!?], rekao je Pry okupljenima. "…U kineskim tekstovima postoje samo pobijeđeni i pobjednik".
Sve bi to zvučalo impozantno da kineska kultura, filozofija pa čak i državno upravljanje ne počivaju na konceptu mira kao uravnoteženog stanja između Neba (天) i Zemlje, stihija, vladara i ljudi, obitelji, pojedinca, vanjskog i unutarnjeg.
Yin i Yang? Za Prya nepoznato. Pobijeđeni i pobjednik, zero-sum kultura šahovskog razmišljanja je upravo zapadni dominantan koncept. Kina vrednuje izbjegavanje konflikta, strateško opkoljavanje i stvaranje taktičkih ali neočiglednih prednosti.
I ovo nije samo slučajnost, neka nelagodna devijacija. Neki su govorili o opasnostima kineske farmaceutske industrije. Kamo sreće da je bila riječ o problemima kvalitete, prekusora, čistoći supstanci i proizvodnje, patentima i pravima, odnosno svemu što brine normalni svijet.
"Kineski Fentanil ubija Amerikance. To je kineski kemijski rat protiv naše mladeži!" uskliknuo je govornik. [3]
Kako su se redali govornici, postalo je jasno da čitav skup balansira između Davida Ickea i babe Vange sa završenom politologijom na pučkom sveučilištu. Jedan etnički Kinez, religiozni izbjeglica, ponudio je općerazumljivo religiozno objašnjenje jezikom Georgea Busha mlađeg: "Kineska komunistička partija je zli kult". U isti mah, Kinez je bio oprezan u svome znanju opasnih kultova i jasno razlikovao Komunističku partiju od Kine i Kineza. Ali takve nijanse su bile pretjerano istančane za percepciju okupljenih eksperata za kinesku prijetnju.
Jedan od govornika je završio svoje predavanje porukom da voli kinesku hranu ali ne želi da je u budućnosti bude primoran jesti dok se drugi toliko zanio da je mrtav hladan i vrlo ozbiljan izjavio da se Kina snažno miješala u američke predsjedničke izbore 1996. godine!
"Kina će uskoro kontrolirati sustav Zemlja-Mjesec" [?!?], proročio je fantastičnu distopiju treći govornik, pričajući o kineskim nuklearnim i tehnološkim poduhvatima. Četvrti se požalio da Kinezi "utječu na našu djecu kroz svoje crtane filmove". Naravno, nitko na skupu vintažnih ratnika nije znao da su Pokemoni, Sailor Moon ili One Punch man produkt savezničkih animatora. Možda je mislio na pikantnije crtiće, ali i ti su proizašli iz mašte istih animatora.
"Šire svoj utjecaj kroz Google", nastavlja gospodin "i preko drugih tražilica te socijalnih mreža poput Facebooka. Što ti je đavolja dovitljivost, vjerojatno, uvaliti Zuckerbergu kinesku ženu i prodati to svijetu kao brak iz ljubavi.
"To je direktno miješanje u naše osobne živote, zdravstvenu i genetsku informaciju", dodao je gospodin.
Kao nepobitni dokaz kineskog zla, jedna gospođa je navela činjenicu da Kina otvara medijske kuće diljem svijeta. I to na lokalnim jezicima!
"Kineski mediji mame ljude većim plaćama", poentirala je gospođa.
U turobnom i znakovitom muku, prisutni su razmišljali o sotonskoj ingenioznosti i aroganciji korištenja veće plaće u svrhu konkurentnosti.
No, u moru bisernog niza, posebno je sjala izjava gore spomenutog gospodina Pryja. Svoje izlaganje Pry je završio tvrdnjom da je Kina kriva za propast malog američkog čovjeka-radnika. Zbog Kineske ekonomske maligne djelatnosti propale su tvornice i gradovi te porastao suicid i kriminal.
"Žrtve su stvarne. Kada bi netko napravio studiju, kladim se da je više Amerikanaca već poginulo u ovom ratu negoli u Vijetnamu ili od kraja Drugog svjetskog rata"
Upirući prstom u ploču na kojoj je pisalo ime Komiteta, završni gospodin znakovito je uzviknuo:
"Vidiš li ovo, Pekinže? Sada, ovdje, objavljujemo informacijski rat Narodnoj Republici Kini!"
Inspiracija i lajtmotiv skupa bila je često spominjana kineska knjiga "Unrestricted Warfare" iz 1999. godine, u kojoj dva debelo umirovljena pukovnika, od kojih je jedan u trenutku publikacije knjige već dvadesetak godina bio u savezu pisaca Kine, slobodnim stilom teoretiziraju o tome kako mogu nerazvijene zemlje savladati SAD u neravnopravnom ratu. Zanimljivu, iako opskurnu fikcijsku literaturu organizatori su tretirali kao kineski generalni plan, demonsku instrukciju nemoralnog ratovanja; dokaz da je Kina oduvijek kovala planove protiv Amerike. [4]
Poput Rusa koji dan danas Brzezinskom podmeću frazu koju nije napisao, o izgradnji novoga svijeta na pepelu Rusije i bez Rusije, ili poput vjere realnost Protokola Sionskih mudraca, ili poput vjere u autentičnost "Plana Dullesa", članovi Komiteta su iskreno uvjereni da je to to. Look no further, rekli bi. Čak i ako nije istinito, principi i ideje imaju smisla, kažu ljudi koji žive s takvom literaturom. S takvom ekspertizom, energijom i dubinom životnog iskustva, Amerika može spavati mirno.
Ako Komitet poživi. Kineska prijetnja? Not on my nurse's watch!
[Already a notorious Nemesis of mine, Ratko Knezevic is toroughly well described in this English language Serbian article. From what I have heard, all of the information from this article had been confirmed as 1:1 true by multiple intelligence agencies, while Ratko at a dinner with me refuted it all as a part of a smear campaign by Milo Dukanovic and his enemies. But this might just be a case of "he said… everybody else said?"]
[Talking about smear campaigns, at the same time, he used an influental Croatian publisher and journalist Ivo Pukanic, who was later assasinated via car bomb because he knew too much, to lauch a smear campaign against Milo Dukanovic, at one point Stanko Subotic "Cane" and probably many others. So I guess he would know about smear campaigns. Luckly, my hands are clean. And his hands got other people's blood (and money) all over them. So I guess this tactic would be futile here]
[Ratko Knezevic claimed this on Facebook many times. He did not respond in any rational way to the argument that it was precisely neoliberal deregulation of the USA pharmaceutical industry, and their lobying power, that led to ten fold over prescription of opioids compared to other countries. Long story short, USA capitalists profited on legal drug peddling, and now the same people are appropriately blaming Chinese smugglers (who operate illegally in China anyway!) for the opioid crisis. Ratko's / Bannon script, as a response to an irefutable argument: silence. Many people have noticed this behaviour. Sapienti sat.]
[Interestingly enough, R.K. also pointed out this book in many of this public status updates that he wrote exactly during the time after he met with Bannon, right after his Winter skiing vacation. He documented it himself so well on Facebook that it would take any investigative journalist worth it's salt 5 minutes to connects the dots. More on this later. But for now it is appropriate to mention that he is spreading entirely bogus quotes from this book to spread his Covid19 conspiracy theory, while no viruses or any means of biological warfare was ever mentioned in the book, as far as I can see from the Wikipedia, and while, for Certain, a 20 year old book by two retired PLA Colones did not influence Chinese strategic stance by one bit, as we see today with the new high-tech weapon systems, such as hypersonic glider missles DF-17, notorious carrier killers DF-21D, and ICBMs DF-41, but also in the new PLA Navy build-up at a pace that the world has never seen before (citation avaiable as per request). The book is simply used as an appropriate "proof" of a giant Chinese conspiracy to take over the world, while it is in anybodies view clear, except white supremacist Bannon's, of course, that China prospered precisely and only economically intertwined with other nations, in the times of peace and stability, bringing prosperity to Cambodia and other places that allowed her economic impact]
The text was originally published on 07.04.2019. - 22:00:26 or 7th of April, 2019. 10pm