Koji kurac Franjo?
Općenito nisam nikakav veliki fan superhero filmova i stripova, ali jednom mi je jedan fan žanra čije misljenje izrazito cijenim rekao – ta osoba je doktor znanosti politologije i generalno vrlo bistra – da se radi o filmovima koji su ideološki par excellence, pritom konkretno referirajuci na Avengers (2012). Tada mi se to nije cinilo osobito bitno, ali u meduvremenu sam naucio da se radi o vrlo bitnom zanru, upravo jer prikazuje svijet crno-bijelo i pojednostavljeno, i daje nekakav destilat trenutacnog stanja globalnog duha vremena. To je naprosto moderni ekvivalent starih politeistickih mitova i arhetipova, koji simbolicki i posredno otkrivaju stanje i raspolozenje kolektivne svijesti jedne kulture. Ono sto me dodatno potaklo na istrazivanje (tj. gledanje filma) jest cinjenica da je ovaj zanr izuzetno popularan u Kini. I to nije bez poslovicnog vraga.
Zasto je sad Kina bitna, i gdje si bio '91. ?
Jednostavno je. Kina prolazi radikalne, ali spore, drustvene promijene. Vecina ljudi je itekako svijesna svojeg manjka slobode u odnosu na Zapad, trziste ucenja engleskog je u konstantom boomu jos od trzisnih reformi i otvaranja ekonomije sedamdesetih, i nikako ne usporava sada kada su im se realni prihodi gotovo udvostrucili u samo 10 godina, niti bih predvidio usporavanje obzirom da se Kina postupno preobražava iz proizvodne i izvozne ekonomije u usluznu ekonomiju usmjerenu na unutarnju potrošnju. Svatko imalo slobodouman planira barem studirati vani, ali i napustiti Kinu u odredenom trenutku – kod Kineza je ovo ipak jasno definirano: Kinez čak i kad ode u dijasporu nikad ne prestaje biti vezan za svoju domovinu, i vratiti ce se barem u njoj umrijeti, te joj pomoci kako god moze (dobar dio mojeg grada recimo izgraden je i financiran od strane kineske dijaspore, zato stari centar ima prilicno mediteranski stil, kao da je Hainan ikad bio portugalska ili spanjolska kolonija. A nije). Slicno gledam i na odlazak iz RH – svakome preporucam, ali apsolutno apeliram na sve da se u odredenom trenutku vrate i pokusaju promijeniti stvari na bolje, mozda kad se uhlijebi pojedu napokon a HDZ-u ponestane sredstava ili voljnih pobornika za kupovanje socijalnog mira da odrzavaju svoju biracku masineriju. Društveni kapital stečen iz strane zemlje idealan je za biznis u zemlji koja je itekako dobra u izvozu (mnogi misle da nismo!), recimo, a na sto se inace sada poslovno fokusiram (konkretno, etericno ulje smilja).
No dobro, na stranu sada ova domoljubna digresija, kakvo je onda stanje u kineskoj politici, obzirom na postepen porast svijesti o slobodi tj. vlastitoj neslobodi naroda? Ovo je jako zanimljiva tema. Ako je vjerovati onome sto sam saznao iz razgovora sa kineskim poslovnjacima, poduzetnicima, umjetnicima, mahom mladima i drugim slobodnim duhovima, clanstvo u Partiji vise nije ni blizu toliko privlacno koliko je nekad bilo. Radi se uhljebljenju u jednu od najefikasnijih birokracija koje svijet poznaje, koje garantira karijeru i za koje je kao prvo i potreban sjajan CV, ali i vrlo sporom napredovanju, radu gotovo bez praznika, i to dosadnom, kafkijanski-birokratskom radu, bez puno mogucnosti za neki self-expression i samoinicijativu. Ovo samoizrazavanje bitan je element zapadne liberalne kulture (i pop kulture) i jedan od najbtinijih obiljezja osobne slobode, ali je takoder kulturni element cesto vrlo destruktivan za vladajuce – jer je kritican, propitkujuc, anti-tradicionalan, revolucionaran (ili barem reformisticki), protiv drzave i protiv regulacije – kinezi bi u konfucijanskom duhu rekli 无法无天 (bez zakona i bez Neba), ukratko, jer je liberalan. Trenutacna kineska ideologija odbija uopce ideju ljudskih prava, civilnog drustva, velike vecine osobnih sloboda (npr. pravo na privatnost), sudstvo je daleko od nezavisnog i svodi se ili na business law ili na kazneni zakon. Ustav je mrtvo slovo na papiru (npr. fun fact: po ustavu je NR Kina zajamcuje slobodu govora) a bilo kakvi zakoni koji bi garantirali pojedincu nekakav leverage u odnosu na drzavu su gotovo nepostojeci. Ovako izgleda sluzbena propaganda koja je istaknuta na gotovo svakom javnom mjestu i koja se svaki dan recitira na radiju, televiziji. Inace jedan od zabavnijih hobija mi je promatranje gdje sve vidim ovu propagandu, sto cudnije mjesto to bolje – npr. straznji prozor busa, taksiji, internet kafici, i slicno: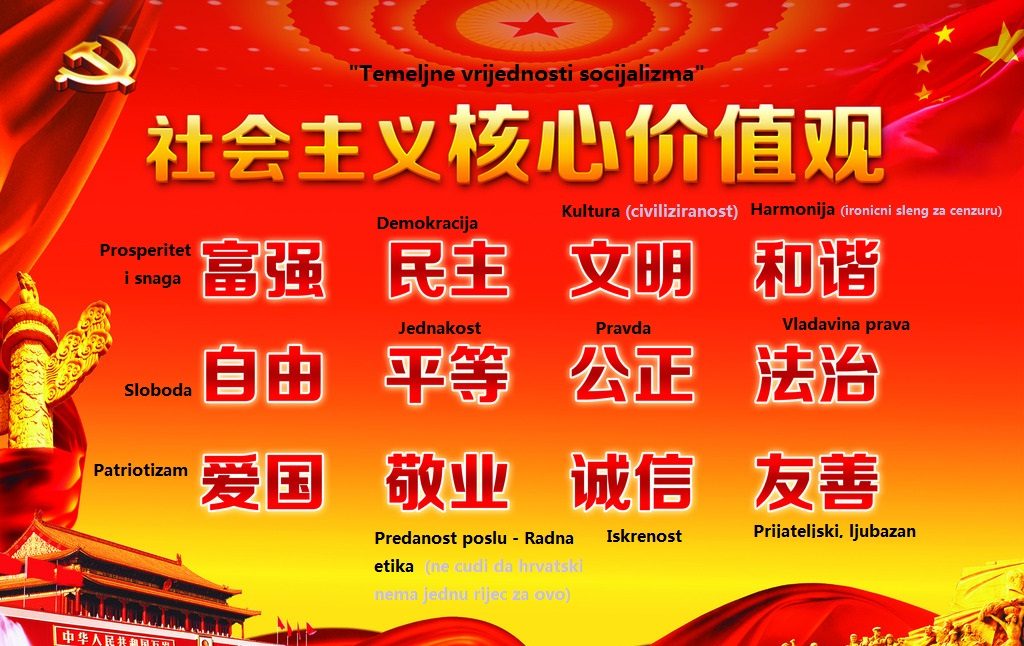 Zacudo, demokracija, vladavina prava i sloboda su na popisu, ali naravno, tu se misli na kinesku verziju istih. Vec sam pojasnio kinesko pravo – pod demokracija se u stvari ne misli toliko na izbore koliko na ogroman legitimitet koiji Partija ima i uspjesno odrzava, uglavnom na temelju gospodarskog rasta, i sna o revitalizaciji nacije kroz izgradnju vojske, globalnih politickih i ekonomskih utjecaja npr. Novi put svile, i slicno. Takoder valja napomenuti, a ovo je ono sto sam primjetio da razni kolumnisti u RH tragicno promasuju (tnx Jutarnji), kineska vlada itekako mari za ono sto gradane muci. Ogromni novci konstantno se trose na istrazivanje javnog mnijenja i KPK je poznata po tome da aktivno mijenja svoje politike u skladu sa pulsom naroda – npr. nedavno ukidanje zakona o jednom djetetu sto je dugo bio velika prepreka – barem urbanom dijelu populacije gdje se provodio – u ostvarenju necega sto bi mi na Zapadu smatrali temeljnoj i neotudivoj osobnoj slobodi. Pod sloboda se na ovom plakatu valjda primarno misli na ekonomsku, i novac je u kineskoj kulturi usko vezan za slobodu (cak i vise nego kod nas!), ali osobne slobode tu su kazem, iz perspektive sluzbene ideologije, puno manje bitne.
Dobro, kakve veze ima Avengers (2012) sa svime ovim?
Ukratko, vec u prvih 20 minuta filma ideologija je jasno izlozena: Loki, ambivalentni i kaoticni bog kojeg je tesko objasniti ali koji je najvise vezan uz arhetip prevaranta – saljivca (eng. trickster nema dobrog prijevoda u hrvatskom), tako da je analogan recimo Jokeru, dolazi na zemlju i zeli ju "osloboditi". Osloboditi od cega?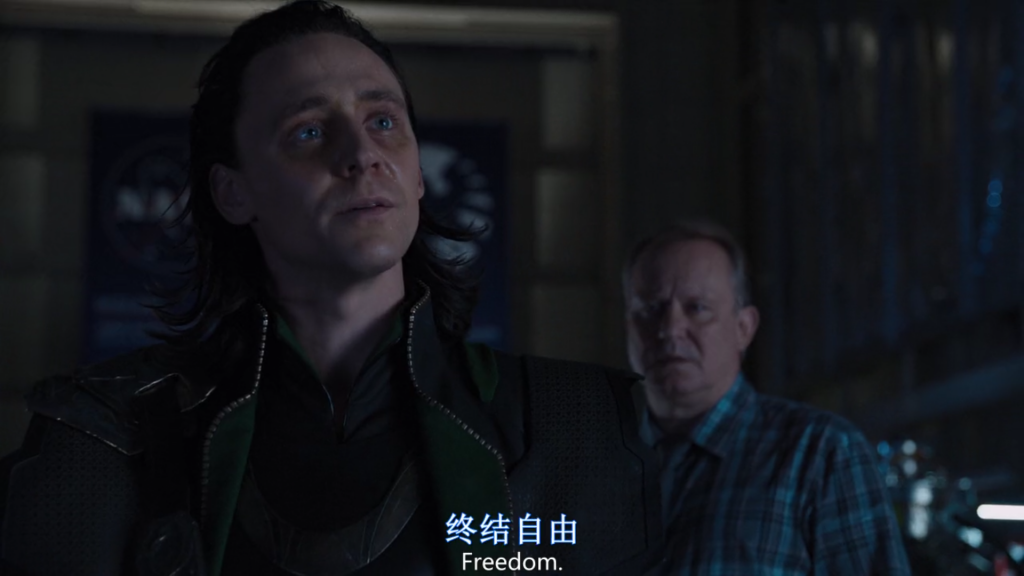 Od slobode. Svida mi se dupla negacija ovdje i orvelovski stih. No sto Loki nudi zauzvrat, ako je sloboda, kako kaze, laz? Loki nudi mir. Ovo je jako zanimljivo – jer u kini je mir vrlo bitna temeljna vrijednost usko povezana sa idejom harmonije (gore na slici), pa tako i drustvenog poretka, tradicionalnih vrijednosti i konformizma. Dakle necega sto je u ocitoj suprotnosti sa osobnim slobodama – i sa glavnom ideloskom idejom ovog filma – slobodom kao takvom. Ovdje mi je super vidjeti kako ce onda kinezi prevesti "mir". Jer ako ga prevedu kao "heping" (najdoslovniji prijevod) ili "hexie" (spomenuta harmonija) onda ce glavnog antagonista filma staviti u ulogu arhetipa kineske kulture. 😀 Cenzori zaobilaze ovaj problem namjernim netocnim prijevodom. Mir je preveden kao "anning" i, iako je ovo formalno tocno, ocito je iz konteksta da ta upotreba nema smisla. "Anning" nema nikakve ideoloske ili politicke konotacije, nego naprosto oznacava subjektivno iskustvo smirenosti. Kada bi Loki rekao, sto bi bio precizan prijevod – umjesto slobode dati cu vam heping, to bi naprosto bilo skandalozno i film bi bio ono sto kinezi nazivaju: 反社会 – protudrustven.
Morpheus dobro razumije Lokijev double-speak: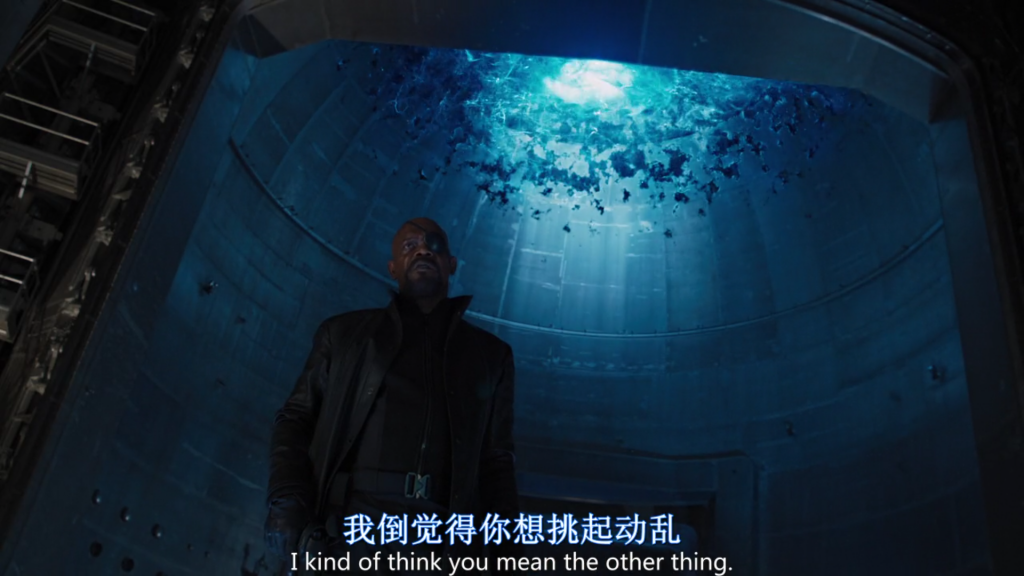 Opet, situacija nije toliko crno-bijela – Loki je ipak ovdje puno jasniji arhetip totalitarizma, i to film nimalo ne skriva. U sceni sa pocetka filma, u Njemackoj, Loki koristi svoju moc teleportacije i zastrasivanja, da zapovjedi grupi od stotinjak njemaca – slucajnih prolaznika – da mu se poklone. Na taj prizor jedan naravno ustane i kaze "not to you". Ali ocita referenca na Hitlera postaje ekspicitna kada, naravno, Captain America dolazi u scenu i kaze svoj line: "You know, the last time I was in Germany and saw a man standing above everybody else, we ended up disagreeing.". Loki je tako prije arhetip Führera, Velikog Vodje, militaristicke odanosti cilju, i blizi je japanskom nacionalizmu npr. ideologiji koju je izvrsno ozivotvorio Yukio Mishima svojim zivotom i djelom (i smrcu) – a koji je najdalje i suprotnije od liberalizma koliko je to moguce biti.
Ipak, postoji jako puno toga u filmu sto je u suprotnosti sa kineskim dozivljanjem politike i zajednickog zivota. Primjerice, u ovoj sceni njegov brat Thor pita Lokija, koji je upravo izrazio svoju zelju za apsolutnom globalnom dominacijom – "Zar ti mislis da si iznad njih (ljudske vrste)?", na sto Loki bez oklijevanja odgovara potvrdno. Thorov ideoloski protunapad?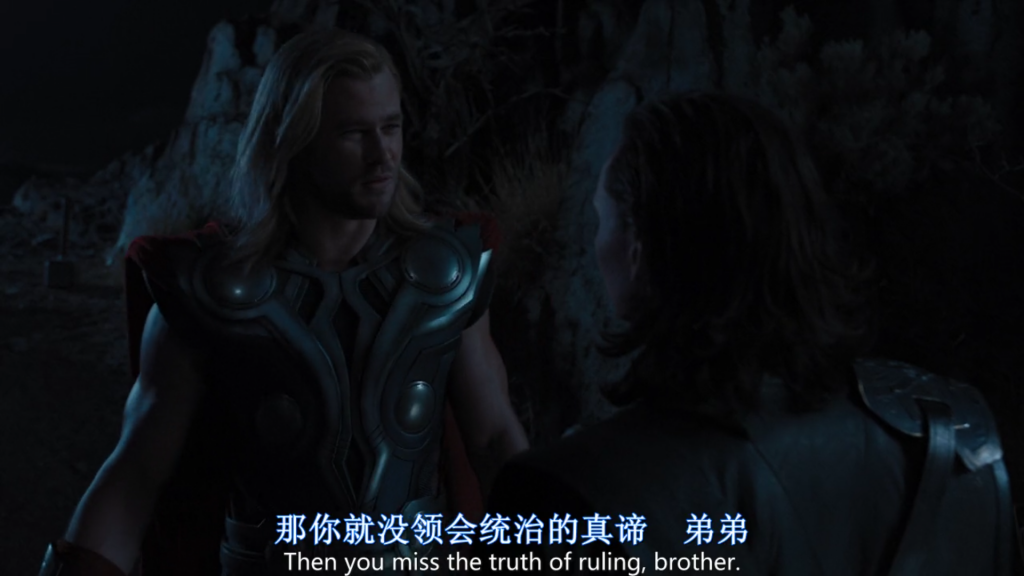 Ovo je u bitnoj suprotnosti sa kineskim shvacanjem vlasti. Xi Jingping je puno blizi Lokiju, Fuhreru, nego Thoru, po vlastitim rijecima evidentnom liberalu. Kinezi obozavaju Xi Jingpinga, i to sasvim doslovno, jer ga shvacaju na neki nacin bozanskim i iznad njih – to su mi osobno rekli (tj. zena mi je rekla – ali drugi kinezi naprosto show dont tell zive ovu istinu). "On nije i ne moze biti jedan od nas". On je, gotovo bi se moglo reci, u skladu sa starim konfucijanskim ucenjem, car, onaj kojem je Nebo osobno dalo mandat, dakle Sin Neba. A obzirom na ogromu razinu meritokracije u kineskom sustavu – mogu odgovorno reci da je Xi Jinping s razlogom obozavan – ne mislim da je povijest poznavala puno lukavijih i genijalnijih makijavelstia – a istovremeno umjerenih i snaznih licnosti. Onaj tko je u kineskom meritokratskom sustavu nakon 50 godina borbe uspio izaci na vrhu, ocito je above naroda kojim vlada, i po kinezima, sa dobrim pravom.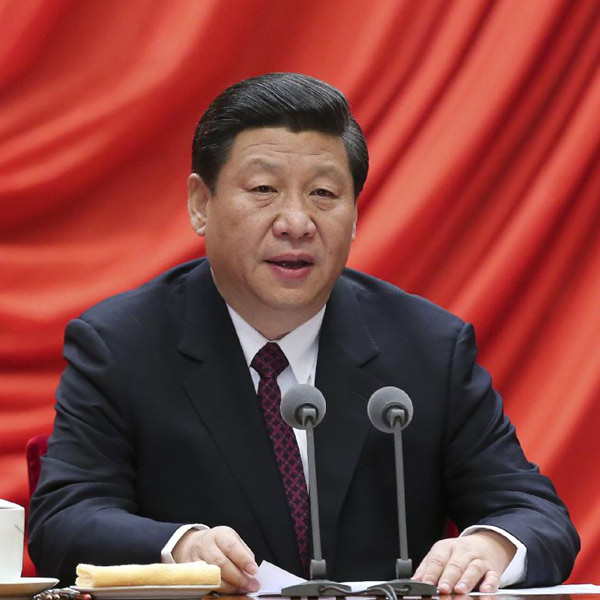 U Kini je hijerarhija shvacena uvijek pozitivno, a autoritet ima sasvim drugacije konotacije (na Zapadu je gotovo nuzno los). Anegdota: jednom sam sa zenom gledao dokumentarac o Meksiku i kartelima – narod naravno ne voli policiju i u jednoj sceni ju otvoreno vrijeda i napada (policija zeli provesti zakon i zaplijeniti oruzja, ali kako ce se onda jadni ljudi braniti od kartela?). Zena sva u cudu: "zasto oni mrze policiju?!". Ne znam gdje da pocnem s odgovorom, ali ovo dobro ilustrira da kinezi gotovo nikad uz vlastitu policiju ne vezu nekakve negativne pojmove, dok na Zapadu barem 50% populacije cvrsto internalizira ACAB princip, u svom svojem liberalnom buntu.
Sto buducnost nosi?
Ne ocekujem nikakve nagle prevrate, ali svakako postupni hegelijanski rast u svijesti o slobodi. Rast u bogatstvu i svijesti o trenutacnoj neslobodi dovesti ce do sve liberalnijih zakona, ali ce istovremeno poluge vlasti biti cvrsto jednostranacke i tipicno kineske, barem u dogledno vrijeme – KPK pokazala se nevjerojatno sklona velikim reformama. U svakom slucaju, zanimljivo je pratiti situaciju iz prvih sjedala. 🙂